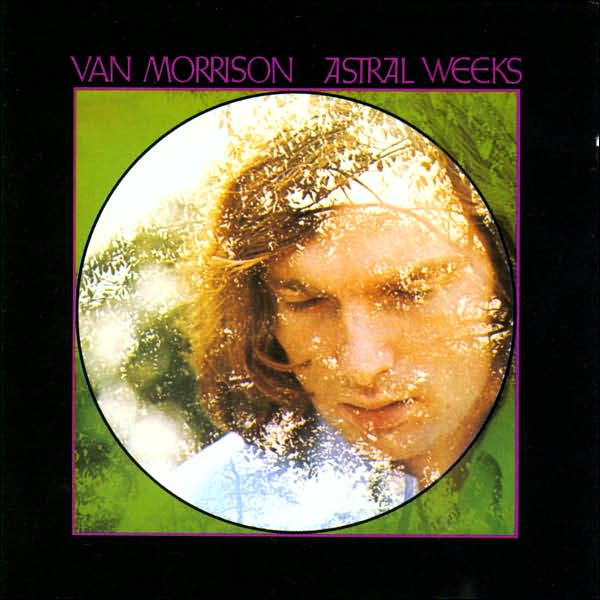 I close my eyes and sleep for love comes flowing streams of consciousness
Soft like snow, to and fro,
Let us go there together, darlin', way from the river to here and now
And carry it with a smile, bumper to bumper
Stepping lightly, just like a ballerina.

-Van Morrison
A while back when I did my greatest albums ever,
Astral Weeks
was in the top five. It could very well have been number one. A transformative album, in several senses, that's a musical and lyrical triumph in creating a personal, yet atmospheric, and gorgeously arranged album. It's one of those albums you can put on and listen all the way through. It takes you places.
For me, the album is encapsulated quite well by the cover photo by Joel Brodsky. Van obscured, perhaps reflected, but with light beginning to penetrate through. If the album looks, sounds, feels like an impressionist painting; because it is, in both form and content, a bit fragmented, made up of visible tiny strokes of certain colors of music.
I was lucky enough to have had parents who were extremely well versed in rock music, and Morrison, and this album, was introduced to me quite early. For me this album is like early spring, when winter hasn't quite left, the snow's still there, but it's melting, and the ground and leaves are beginning to show.
Lester Bangs, perhaps the most famous music critic ever, wrote about the record: "It sounded like the man who made
Astral Weeks
was in terrible pain, pain most of Van Morrison's previous works had only suggested; but like the later albums by The Velvet Underground there was a redemptive element in the blackness, ultimate compassion for the suffering of others, and a swath of pure beauty and mystical awe that cut right through the heart of the work."
Often confused as a concept album, this is a song cycle, and brings to mind, in its subject matter especially, Mahler's Lieder works.
Morrison's style directly influenced musicians like Patti Smith, Bruce Springsteen("Stephen Van Zandt:
Astral Weeks
was like a religion to us"), Elvis Costello, U2, and more recent artists like The Frames (and various side projects), Damien Rice, Jeff Buckley (who, perhaps, was influenced more by Morrison than by his own father's musical style) etc. The diverse meeting of musical styles and ambitious, often bordering on baroque arrangements of the everyday, can be seen quite especially in Springsteen and Costello's work. Costello said of the album: "its still the most adventurous record made in the rock medium, and there hasn't been a record with that amount of daring made since."
Morrison, and the album, have had another influence on other sorts of artists:
Greil Marcus, in a 2006 interview in
The Believer
, said that Scorsese told him that the first half
Taxi Driver
was based on the album. While this may be apocryphal, the nature of Morrison's music, and
Astral Weeks
in particular of trying to find in earthly love, in an often cruel world, the very nature of the heavenly, an impulse seen in much of Scorsese's films but perhaps one he only successfully achieved in
Raging Bull.
Morrison's songs feature prominently in
The King of Comedy
,
The Departed
, and
Bringing out the Dead.
Ain't nothing but a stranger in this world
I'm nothing but a stranger in this world
I got a home on high
In another land
So far away
So far away
Way up in the heaven-Van Morrison, "Astral Weeks"
While I haven't read anything from him, I assume that David Chase, the hyper-literate creator of
The Sopranos
, is also an admirer, since Morrison's songs appear in nearly every season of the show; then again this could be explained by Van Zandt's involvement with the show.
Morrison recently explained the title:
"Astral Weeks" songs...were from another sort of place—not what is at all obvious. They are poetry and mythical musings channeled from my imagination...[They] are little poetic stories I made up and set to music. The album is about song craft for me—making things up and making them fit to a tune I have arranged. The songs were somewhat channeled works—that is why I called it "Astral Weeks." As my songwriting has gone on I tend to do the same channeling, so it's sort of like "Astral Decades," I guess"
(below album info from Wikipedia)
Track listing
All songs written by Van Morrison.
Side one - "In the Beginning"
Side two - "Afterwards"
Personnel
Production
Producer: Lewis Merenstein
Engineer: Brooks Arthur
Arranger and Conductor: Larry Fallon