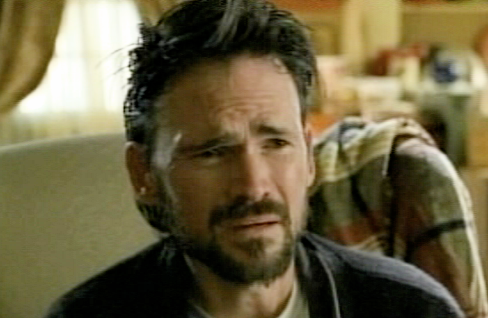 "Why are you crying Daniel?"
"I think we've jumped the shark."

I'm pretty much done with Lost. I mean I'll still watch it if I have the chance, but I've lost (ha, pun) a lot of investment in the show. While I had problems with the time-travel and the whole freighter people having a part in the larger mythology that's not what did it for me. In fact, it's not any particular element of the show. Rather, the failure of any compelling fundamental story structure present in the way the show itself has gone along.
Think back to previous seasons. There were clear protagonists with very clear goals. Remember when the show had characters instead of being a fantasy travel show? When they had problems and hopes and weren't just treated like pieces on Locke's Backgammon board? And there was a collective objective for everyone to get off the Island and a more metaphysical super-objective of each character redeeming themselves via acts to get them off the Island, or for them to chose to stay. That was the entire show for 4 seasons. I assumed that season 5 would be the inverse, where they'd spend the season trying and failing to get back to the Island. Instead, they got back like three episodes into the season. So, what is the point of this season? Is it to hit us over the head with backstory which has already been inferred or which was far more interesting when it was mysterious?
What is this season even about? Season 1 was the characters being introduced to each other, us, and the Island. Season 2 was the introduction of the tail section and Desmond. Season 3 was about the Others and probably enough history of the Dharma initiative that I'd ever need. Season four was about getting off the Island.
Time travel, when used as a storytelling device rather than a cohesive part of the larger plot is lazy, and sadly it seems to me that there was no point in the whole addition of time-travel to the show than to tell backstory in ways other than flashbacks. I thought the flashback's worked just fine. Even lazier is the fact that Miles can talk to dead people, which seems superfluous since we've been seeing and talking to dead people since the first season, only now it's less nuanced and more conventional. I mean really, Ben already told us about how he took Alex and raised her so why did I need to spend a whole episode seeing what I've already been told? The same can be said of Rousseau and her team. We had the story, why did we have to see it? I'd rather spend time seeing how the characters are dealing with their situations.
And that's what's most disappointing; that the characters have taken a back seat to the mechanics of this not so compelling and aimless plot. Or it might as well be aimless. You don't have to tell the audience where you're going, but you better give them something to look forward to. Lost has not given its audience anything of the like so far this season. I just don't know what the stakes are, what the objective is, or what's standing in the way of that objective. If it was to get back to the Island that happened too quickly. And overall it has to be about characters even at the expense of the plot. I'm sorry, I don't care about the mechanics of the smoke monster as much as I do about John Locke coming to terms with the fact that he's been resurrected. And once you tell me how something works, its not going to be half as cool as if you had left it mysterious. That's what Lost had done so well, to tell us the least amount of information we needed about the larger mythology to understand how the characters have roles in that mythology. Now that model has been turned on its head.
As far as I can tell this season is about trying to get the survivors back together on the Island during the same time period because they're supposed to be back on the Island, because they're supposed to. Though that's never a good reason when you're telling a story. And obviously Locke has to do something with some ancient device that will fix things and get the two groups back together even though Ben already killed them all and Jack is in the ditch with the bones of everyone else from Dharma. Even if that's the case what's the point? Why should I care Why add this whole wrinkle (of the survivors being with the Dharma bums) to the story? Are they just buying time? How does any of this have to do with what we've seen so far in the show and how it will end, other than give us unnecessary back story? Please, these aren't rhetorical questions. I want to care. But they just haven't given me anything to latch onto.
Lost was excellent at story structure, even when it struggled in other areas. But now its lazy, and not balanced at all. Arcs take too long, like getting back to Penny and Desmond, or too short, like Sawyer and Juliet.
Brian K. Vaughn is really the only different element in the creative workings of the show this season. But I don't think it's his fault. His Y: The Last Man was one of the best comics in recent years and was wonderfully structured, wildly compelling, funny, and interesting. Maybe Damon and Carlton were too busy with Star Trek? Which, mild spoiler alert, will include time travel. Enough with the time travel! I thought that maybe Lost would be the first show to really make it work. Alas, no. To me, Lost is like Marty McFly's photographic self in Back to the Future; slowly and painfully fading away from its vibrancy and life.