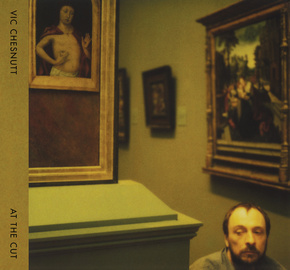 At the Cut
Vic Chesnutt
*****
"Oh, death you hector me
and decimate those dear to me
tease me with your sweet relief
you are cruel and you are constant."
After the upbeat album with Elf Power, it was inevitable that Vic's next album, his 13th, would be darker. After 20 years, mostly spent in relative obscurity, it seems Vic has access to more than ever, and utilizes it in forming a backing band made up of members of God Speed You Black Emperor, Fugazi, and Silver Mt. Zion all recorded by former Arcade Fire member Howard Bilerman. But, when all is said and done, Vic's voice is his strongest instrument, and his lyrics his strongest asset. He's attempted some lofty albums compositionally in the last decade or so, experimenting with various recording methods, and joining up with everyone from Lambchop, a mix that really should have worked out better than it did, to Widespread Panic. But this is the first which properly accompanies those very strengths. Vic's lyrics have always been as elusive and layered enough (full of all sorts allusions, and this album is no exception, alluding back to some of Vic's past work) to bring you back again and again, but also vivid and urgent enough to keep you involved from the get go, but here the music does the same. It doesn't overwhelm him, or undercut him, but creates an expressionistic interpretation of his approach to each song. Vic leaves room for him to play solo on the disquieting "When the Bottom Fell Out," allowing him to highlight not only his lyrics and his delivery of them, but his underrated guitar work at its minimalistic best (where the sound of his pick hitting the body of the guitar is an effect in itself).
Reviews seem required to acknowledge Vic's back story, but, this album tells that in more layers and more personally than I ever could begin to: this is his most personal album. A devastating thematic tour de-force that will give you chills; no other album this year has affected me as much as this one. Unlike most albums around, this is has a genuine emotional and experiential core from which the music derives rather than the other way around; its a deeply moving and at times startling exploration of death, morality, and pain, which happens to be a musical album. Vic has spent his career writing lyrically playful songs that merely touched upon or ironically approached his personal demons. He's far more direct here, and though "Flirted with you all my life" is rather upbeat, it's still a song about a man telling death, something with which he's far too familiar that he's just not ready to go yet. Vic has another LP out next week produced by Jonathon Richman (Modern Lovers). If you have a chance to see him on his ongoing American tour see him. It's a rare, amazing experience.
Also recommended by Vic Chesnutt:
Darker Developments ****
Silver Lake ***1/2
About to Choke ****
Is the Actor Happy? ****1/2
West of Rome ****1/2